Just a friendly reminder--Green Drinks is next
Wednesday at 7 pm
at
Bitters
! We're going to talk about going to the Tree of Life and touring the recycling centre, among other things.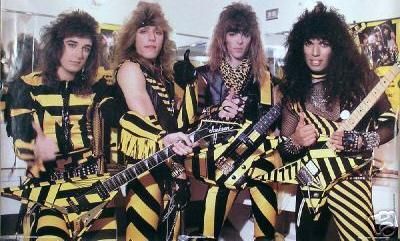 Stryper, thumbs up for Green Drinks . . . and the environment!
Now about this title. Every time I make one of these posts, facebook will show me how many people look at it. Usually it's a dozen or so. But recall that
two weeks ago
, I wrote a post that included an image of Spinal Tap. To my great surprise, I found that over night more than a hundred people had viewed that post (see below). There aren't even a hundred people liking Green Drinks! That tells me something--Green Drinks loves silly metal bands. Well, who am I to deny you? (And you're welcome.) Next time, it's Hedwig and the Angry Inch!
A tale of two posts: Maybe if the Fracking Awareness Network (top) donned the spandex, they'd get Spinal-Tap numbers.
And now a video that begs the question, "Why aren't we doing this here?"